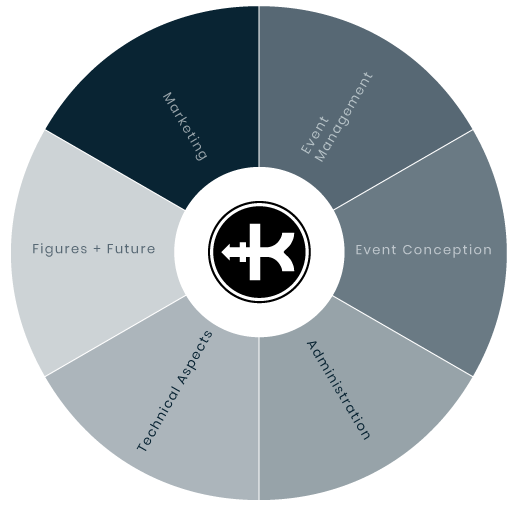 For a major event to be a great event, a lot of interfaces need to interact smoothly.
Anyone working in the event business knows the saying "The devil is in the details". And also knows the following wisdom: "There is nothing that does not exist". We often hear ourselves say: "Who would have thought that?". Sound like you? Welcome to event management.
Precisely because there are so many interfaces and technical requirements that need to be taken into account, every event requires passion and dedication. This is exactly why we are always delighted when it comes to day X. This wonderful energy, that comes back to us from the people, we take and put into the next event – admittedly, in addition to our ever-growing treasure of experiences, of things that we're always surprised actually do happen!
Event-Management
• Trader support
• Catering
• Backstage
• Entry gate
• Security
• Facility-Management

Event conception
• Location
• Planning
• Processes
• Hostesses
• VIP Area / Tents
Administration
• Government offices
• Sound insulation
• Fire protection
• Hygiene
• Emergency services
• Safety & Security concepts
• Cleaning
• Waste disposal
• Residents

Technical aspects & Project management
• Water
• Electricity
• Sound
• Lighting
• Building up and dismantling
• Stage building and technical aspects

Numbers and the future
• Accounting
• Finances
• Financing
• Deposits
• Contacts

Event Marketing
• Flyers
• Placards
• Planning
• Routing systems / Signs
• Printing
• Cooperations